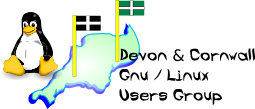 [ Date Index ] [ Thread Index ] [ <= Previous by date / thread ] [ Next by date / thread => ]
Re: [LUG] XChat - DCC issues
Subject: Re: [LUG] XChat - DCC issues
From: Julian Hall <lists@xxxxxxxxxxxx>
Date: Thu, 11 Aug 2005 15:12:16 +0100
---
Robin Cornelius wrote:
On Thursday 11 August 2005 09:38, Julian Hall wrote:




Hi All,


Slightly OT I know, but it is Linux specific. I can DCC Chat anyone in mIRC in Windows, but any attempts in Linux using XChat fall flat on their face. The connection just hangs and eventually times out.





Is this XChat specific? i.e a bug in X-Chat?



Possibly as I can't find any settings for ports etc in XChat. The only firewall as such I have operating in Linux is the hardware firewall on the router. However, as the same machine dual-boots Windows, and as I mentioned DCC Chat is fine in Windows I ruled out the router as being the problem.
Kind regards,
Julian
--
The Mailing List for the Devon & Cornwall LUG
Mail majordomo@xxxxxxxxxxxxx with "unsubscribe list" in the
message body to unsubscribe. FAQ: www.dcglug.org.uk/linux_adm/list-faq.html


---