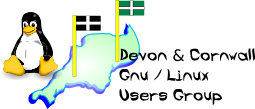 [ Date Index ] [ Thread Index ] [ <= Previous by date / thread ] [ Next by date / thread => ]
Re: [LUG] Good links
---
On Sat, 29 Jan 2005 17:31:03 +0000
William Fidell wrote:


Hi,

What I am after are some good Linux and related web pages to read.  The 
sort of things that I like to read are thought provoking and that give 
me more ideas about things to do with Linux etc.  What I find is so many 
Linux sites have virtually the same content.

Some sites that I do read are (in no order of preference):-
http://freshmeat.net - some times there is a project that sparks an idea 
or answers a problem
http://www.linux.com - occasionally idea pieces and software reviews.
http://www.onlamp.com - a whole load of sites on php, perl, mysql etc 
etc that sometimes give me new ideas.

But this really isn't enough.  So any ideas?

Before anyone says it I have read the resources section.

regards
Wills



I often glance through the offerings at www.osnews.com.  There's a whole lot of 
rubbish on there, but sometimes a gem appears.  I wouldn't advocate reading the 
messages that are posted for most articles - same old people, same old things "Linux 
is rubbish"..."Linux is good"..."You zealot"..."You're the zealot"... that sort of 
thing.

I like it because it has articles on the OSs in general, not just Linux stuff.

Grant.
-- 
Artificial intelligence is no match for nuratal stidutipy.

--
The Mailing List for the Devon & Cornwall LUG
Mail majordomo@xxxxxxxxxxxxx with "unsubscribe list" in the
message body to unsubscribe.



---