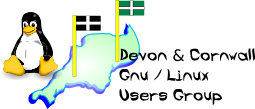 [ Date Index ] [ Thread Index ] [ <= Previous by date / thread ] [ Next by date / thread => ]
Re: [LUG] Installing/Running Linux on an iMac?
Subject: Re: [LUG] Installing/Running Linux on an iMac?
From: Rob Beard <rob@xxxxxxxxxxxxx>
Date: Tue, 04 Jan 2005 20:48:54 +0000
---
Simon Waters wrote:

MJ Ray is one of the LUG people down in Norwich - I vaguely sort of
know him - and I'm sure he would be happy to find someone to help
liberate a Macos 9 user to Debian.


He shouldn't be hard to track down.



The whole point of this free software malarky was to build a
community after all, it was Linus who subverted it all for world
domination.


I didn't know what I'd let myself in for when I suggested installing Linux on her Mac. Just playing with PearPC at the moment, um... much more complicated than than Linux on PC, and even more complicated than when I installed RedHat 6.2 on an old Sun box. I might see if they'll swap their Mac for a PC around a similar spec for a bit, then I can work it out at my lesure. It also turns out they have 2 Macs, I swear they are breeding!
Rob

--
No virus found in this outgoing message.
Checked by AVG Anti-Virus.
Version: 7.0.300 / Virus Database: 265.6.8 - Release Date: 03/01/2005

--
The Mailing List for the Devon & Cornwall LUG
Mail majordomo@xxxxxxxxxxxx with "unsubscribe list" in the
message body to unsubscribe.
---