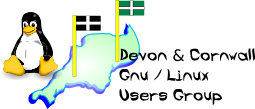 [ Date Index ] [ Thread Index ] [ <= Previous by date / thread ] [ Next by date / thread => ]
[LUG] Installing/Running Linux on an iMac?
---
Hi folks,

Happy new year to you all.

I'm in need of a bit of advice regarding running Linux on an older iMac 
(733Mhz I think).

I have a friend who has a couple of PCs running Windows, but also has an Apple 
iMac running MacOS 9.2.  She has had a few problems recently with different 
programs like MSN Messenger and she'd like to do a reinstall of her OS, 
although since she bought the Mac cheap from her work, she hasn't got any 
MacOS 9 CDs.

At first I suggested she gets hold of MacOS X, but shes not keen on spending 
£100 or so on a replacement OS, so I then suggested she could try Linux 
instead.

I've had a quick look to see what distros are out there and two came up as 
possible choices - Mandrake 9.1, and also Yellow Dog Linux.

My friend isn't very computer literate, she also lives in Norwich so I would 
be talking her through the installation of Linux on the phone.

I just wondered if anyone is running Linux on a Mac and could give any advice 
of any problems or any tips for installing it?

Unfortanately I haven't got access to a Mac, and the nearest thing I can come 
up with is trying to boot/install Mandrake 9.1 PPC on PearPC.

Rob




--
The Mailing List for the Devon & Cornwall LUG
Mail majordomo@xxxxxxxxxxxx with "unsubscribe list" in the
message body to unsubscribe.



---