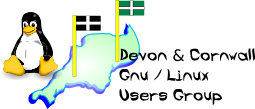 [ Date Index ] [ Thread Index ] [ <= Previous by date / thread ] [ Next by date / thread => ]
Re: [LUG] Synaptic and others
Subject: Re: [LUG] Synaptic and others
From: Grant Sewell <dclug@xxxxxxxxxxxxxxxxxx>
Date: Sun, 2 Jan 2005 18:16:56 +0000
---
On Sun, 2 Jan 2005 17:45:22 +0000
Richard Brown wrote:


Hi

Lindows has just installed synaptic. But of course it didn't install it 
to the menu. Where will I find it and how do I install it to the menu?

Thanks

Rich



If you've *just* installed Synaptic, then it probably won't be in your menu until 
you restart KDE/Gnome/whatever.  Try that first.  If that fails, then try:

Synaptic should only be run as root - I don't know how this fits in with Lindow's 
view of users (is the only/default user root or another username with root's 
privileges?).  But, anyway, as such it will be in root's PATH.  I have a button on 
my "taskbar" that runs this: "gksu -u root /usr/sbin/synaptic" although "kdesu -u 
root /usr/sbin/synaptic" will also work if you want a QT/KDE root-authentication 
box.  If it doesn't appear after restarting (logging out/in) of KDE/Gnome, then you 
can edit the menu and add the above as a new button.

Grant.

-- 
Artificial intelligence is no match for nuratal stidutipy.

--
The Mailing List for the Devon & Cornwall LUG
Mail majordomo@xxxxxxxxxxxx with "unsubscribe list" in the
message body to unsubscribe.



---