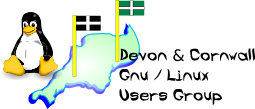 [ Date Index ] [ Thread Index ] [ <= Previous by date / thread ] [ Next by date / thread => ]
Re: [LUG] Farseer enterprises
Subject: Re: [LUG] Farseer enterprises
From: Grant Sewell <dclug@xxxxxxxxxxxxxxxxxx>
Date: Thu, 2 Dec 2004 16:55:29 +0000
---
On Thu, 02 Dec 2004 16:25:40 +0000
Paul Sutton <zen14920@xxxxxxxxx> wrote:


Hi

My friend who runs farseerenterprises (www.farseerenterprises.com)in torbay wants 
to produce a line of PC's running Linux.

He was thinking of Linspire, and asked me if it was suitable (Not having used it I 
am unsure) However I said that Mandrake was good for beginners, 

What do people think,  I also said that it really depends on the user. So what do 
people think would be a good idea.  I have fecora core 3 from the Linux magazine 
cover dvd,  however this is currently with the technician at the college.  

I guess what version of Linux you use depends on the user,  and what he / she 
wants to use Linux for.

Paul



My experience of Linspire has tainted my views on it as a viable Linux option, I'm 
affraid.

If the person installing Linux onto these machines is familiar with Linux, and 
Debian in particular, then I am sure that Linspire would make a perfectly good 
choice *after* it had been locked down somewhat.  This "Click n Run" thing sounds 
like a very nice touch, until you realise that you're paying a subscription fee in 
order to download mainly software that is GPLed anyway.  I know there are other 
packages in the CnR repository, but the bulk of it is Free/Open Software.  To my 
mind, they (Linspire) are taking a perfectly good idea (apt-*) and getting their 
users to pay a subscription for using Linspire's servers as their apt repository.  I 
don't like the sound of it.

I have used Debian based distros only recently, and I have to admit that the whole 
apt thing is fantastic.  I probably would recommend Debian itself for new users, but 
there is a wealth of Debian-based distros around.  Xandros seems particularly aimed 
at people used to Windows environments.  I am also hearing great things about Ubuntu.

You're absolutely right about Mandrake being a good "beginner" distro.  SuSE *can* 
also fit into this category.  I wouldn't recommend RedHat/Fedora as a beginners 
distro, though.  I know they're all RPM based, but that seems to be where the 
similarities (end-user perspective) end.

SuSE has the great YaST tool.  Great if you don't know what to do manually, possibly 
terrible if you do (or at least I found it to be horrible around SuSE 7.x... I am 
sure it used to reinstate files after I had edited them manually - perhaps I was 
being paranoid).

Mandrake's recent tendency is to be almost-cutting-edge, which sometimes lets them 
down.  Although progression is the name of the game, sometimes Mandrake release 
things that, in my opinion, should really have been left for a little while longer.  
Particular example is Mdk9.2.  Horrible, horrible!  Should have been a nice 
"upgrade" from 9.1, ended up being a shambles (IMO).  From what I've seen of 10.0 
and 10.1, things are a bit better.

Grant.

-- 
Artificial intelligence is no match for nuratal stidutipy.

--
The Mailing List for the Devon & Cornwall LUG
Mail majordomo@xxxxxxxxxxxx with "unsubscribe list" in the
message body to unsubscribe.



---