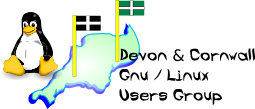 Devon & Cornwall Linux Users' Group
[ Date Index ][ Thread Index ]
[ <= Previous by date / thread ] [ Next by date / thread => ]
Re: [LUG] Who's best for Broadband in Plymouth?
---
---
Hi
Phone Coop will provide a phone line and internet access.
Rich
www.littlebigfoot.org.uk
"How beautiful on the mountains are the feet of the messenger bringing good news." Isaiah 52 v 7 (The Message)
On 26 Nov 2004, at 11:14, Andrew Rogers wrote:
Sorry, forgot to mention that I currently don't have a phone connection. Beside BT what companies in Plymouth provide the phone line?


--
The Mailing List for the Devon & Cornwall LUG
Mail majordomo@xxxxxxxxxxxx with "unsubscribe list" in the
message body to unsubscribe.
---
Lynx friendly