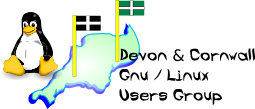 Devon & Cornwall Linux Users' Group
[ Date Index ][ Thread Index ]
[ <= Previous by date / thread ] [ Next by date / thread => ]
Re: [LUG] Creating iso images automagicly
---
---
Robin Cornelius wrote:
It is for backup actualy, but only non-incremental backups. I was hoping that this basic problem has been seen and there was an easy answer!. So a script it is, my way of dividing up the files is just to start recursing through the directory structure totaling up the file size. when some limit is reached call that an iso. I am sure if you allow some percentage for padding, with a bit of fiddling this will work ok.




Have you considered dar (http://dar.linux.free.fr/)?
Pete

--
The Mailing List for the Devon & Cornwall LUG
Mail majordomo@xxxxxxxxxxxx with "unsubscribe list" in the
message body to unsubscribe.
---
Lynx friendly