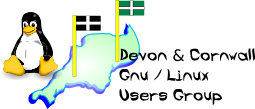 Devon & Cornwall Linux Users' Group
[ Date Index ][ Thread Index ]
[ <= Previous by date / thread ] [ Next by date / thread => ]
Re: [LUG] More On The Patents/M$ Agenda
---
---
Julian Hall wrote:
----- Original Message ----- From: "paul sutton" <zen14920@xxxxxxxxx>
To: <list@xxxxxxxxxxxx>
Sent: Thursday, November 18, 2004 4:06 PM
Subject: Re: [LUG] More On The Patents/M$ Agenda





How much of this is FUD, or are MS going to sue, China





I'd like to see Microsoft try to sue a country with several billion
consumers of their products.  Nice way to drive them into the OS fold :)


Cheers,

Julian


Ha ha..you say that Jules,but don't you remember the article in Linux Format (might have been Linux User and Developer,in which case,sorry)?
The long and short of it was that 80% of machines in China are running cracked Windoze.
M$ wasn't sweating over it,though.They said they were going to work on a method of clawing back the money/hooking the Chinese in.
Round about the same time the Chinese wrote a particularly nasty trojan that connects to the listening Task Manager port...mmmm..
Come to think of it,M$ is streets ahead in the open source game.I mean,those polymorphic agobots are freely downloadable,and most malicious software is compatible with all flavours of Windows.
Sadie
--
The Mailing List for the Devon & Cornwall LUG
Mail majordomo@xxxxxxxxxxxx with "unsubscribe list" in the
message body to unsubscribe.
---
Lynx friendly