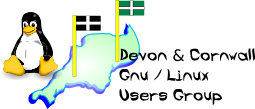 Devon & Cornwall Linux Users' Group
[ Date Index ][ Thread Index ]
[ <= Previous by date / thread ] [ Next by date / thread => ]
Re: [LUG] More On The Patents/M$ Agenda
---
Subject: Re: [LUG] More On The Patents/M$ Agenda
From: alan <amd@xxxxxxxxx>
Date: Thu, 18 Nov 2004 17:41:55 +0000
Content-disposition: inline
Reply-to: list@xxxxxxxxxxxx
---
On 2004.11.18 16:50 "Darke, Clive" wrote:

'How much of this is FUD, ...'

or maybe FUDGE (FUD.Greed.Envy)



Microsoft haven't tried to , or intend to try to, patent any internet protocols.
They have issued licenses for internet protocols which they do not own.
http://yro.slashdot.org/article.pl?sid=04/11/07/0519237&tid=109&tid=155&tid=123&tid=98
so, in other words, FUD
alan
--
The Mailing List for the Devon & Cornwall LUG
Mail majordomo@xxxxxxxxxxxx with "unsubscribe list" in the
message body to unsubscribe.
---
Lynx friendly