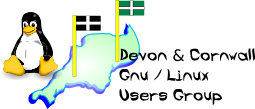 Devon & Cornwall Linux Users' Group
[ Date Index ][ Thread Index ]
[ <= Previous by date / thread ] [ Next by date / thread => ]
Re: [LUG] ISDN Trouble - Hardware maybe
---
---
Simon Waters wrote:
Argh..... I hate ISDN....

I loved it! But not as much as I love adsl now...
> BT Report the lines are okay here, and to Demon.
IME, (Three houses with HH - 2 rural, 1 urban. The urban was never a problem, nor was one of the rurals. The other rural had crap overheads and along distance, and you could pretty much guess when it was going to die. (Wet and stormy weather), averaged a line failure once every six months or so, and once required a new HH box. OTOH, I gave it heavy use and ran a BBS from it for some years)
As far as I know, ISDN either works or it doesn't. If there is corruption, then it's *probably* at your end.
I have a USB socket on the home highway device, does anyone know how to
configure an ST_5841 (eek I can see me installing Win98 on the laptop to
try the USB Windows drivers for the HH box, to verify if it works - save
me from this, the ST_5481 is the USB Terminal Adaptor in the Home
Highway boxes - not recommended by BT but hey it is there!)

I replaced mine with adsl a year ago, the (then 1 year old) HH box didn't have any extra sockets, so I know nothing of this, sorry.
Anyone got a working....
 ISDN line on their BT home highway box?


1 at work, but now only being used for voice.
Old style PCI Speedway terminal adaptor?

Yep, got one in my drawer here. Also got a Courier I-Modem external that does isdn or pots. The latter is superb for testing since it requires no drivers - you just talk to it like it was an external modem.
The Speedway was the best of the four other pci cards I went through. The cheaper generics had seriously bad drivers, or just plain didn't work. Under windows it'd repeatedly "disappear". There were also some dodgy windows driver sets released for the Speedway, I used the german ones for its clone and they were great.
..any one of the above very handy if I could borrow, or use in-situ.

I can lend or sell one of mine, not got a lot of use for them now. I'm at Hennock (email me privately) or I can drop it off at one of our shops if time isn't critical. £10 for the speedway, £20 for the courier.
It's been a while since I fiddled with these, and I never used them under linux, so my help is pretty limited as to the how-so's.
Can you copy any replies to the "disposable" email address
ace-hat-11@xxxxxxxxxxxx as without my regular spam filtering I suspect


CC'd.
--
Simon Avery
--
The Mailing List for the Devon & Cornwall LUG
Mail majordomo@xxxxxxxxxxxx with "unsubscribe list" in the
message body to unsubscribe.
---
Lynx friendly