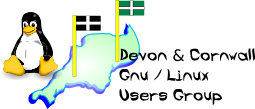 Devon & Cornwall Linux Users' Group
[ Date Index ][ Thread Index ]
[ <= Previous by date / thread ] [ Next by date / thread => ]
[LUG] DATABASE FOR LINUX
---
---
Have moved over to Linux on everything but my 6 year old's games and
Databases.  Don't look for much luck on the first but would like some
help with the last.  I use MS Access at work and home, looking for a
Linux database program that I could move to.  Preferably something with
the same structure as Access. Any help suggestions appreciated. 
-- 
Craig <craig@xxxxxxxxxxxxxxxx>


--
The Mailing List for the Devon & Cornwall LUG
Mail majordomo@xxxxxxxxxxxx with "unsubscribe list" in the
message body to unsubscribe.



---
Lynx friendly