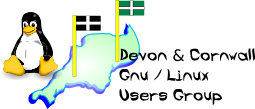 Devon & Cornwall Linux Users' Group
[ Date Index ][ Thread Index ]
[ <= Previous by date / thread ] [ Next by date / thread => ]
Re: [LUG] ADSL - Connecting
---
---
David Bell wrote:
I'm due to connect via ADSL in mid December, meanwhile currently connected using a 56k serial modem via an IPcop firewall box. I have been given an unused <Creative> etho/usb non firewall, ADSL router/modem. Would I be able

Handy tip - throw that usb lead away and don't install the software. If it's anything like the other usb/eth modems then you can configure it all via a web browser over the lan.
to retain my IPcop box and somehow ignore the router facet on the modem: or should I keep it simple, go beserk, and lash out around £30 on a (non USB) modem instead?

Should work fine as just a gateway. Nice and simple, just set your default routing to the IP of the modem and jobsa.
--
Simon Avery
--
The Mailing List for the Devon & Cornwall LUG
Mail majordomo@xxxxxxxxxxxx with "unsubscribe list" in the
message body to unsubscribe.
---
Lynx friendly