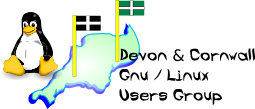 Devon & Cornwall Linux Users' Group
[ Date Index ][ Thread Index ]
[ <= Previous by date / thread ] [ Next by date / thread => ]
Re: [LUG] Install fests
---
---
Anyone know about GNUCash?

And alternatives, up to and including SQL Ledgers and Sage on GNU/Linux?

Anyone becoming a guru on OOo, particularly the spreadsheet and writer?

I'd put a bit of time into a working meeting on the ECDL syllabus, getting 
exercises and course notes written for Linux, but I'm not good at enough of 
it to do it all.


-- 
Adrian Midgley                   Open Source software is better
GP, Exeter                       http://www.defoam.net/

--
The Mailing List for the Devon & Cornwall LUG
Mail majordomo@xxxxxxxxxxxx with "unsubscribe list" in the
message body to unsubscribe.



---
Lynx friendly