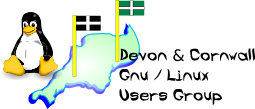 Devon & Cornwall Linux Users' Group
[ Date Index ][ Thread Index ]
[ <= Previous by date / thread ] [ Next by date / thread => ]
Re: [LUG] Install fests
---
---
On Thursday 30 Sep 2004 01:26, Adrian Midgley wrote:


I'd put a bit of time into a working meeting on the ECDL syllabus, getting
exercises and course notes written for Linux, but I'm not good at enough of
it to do it all.



Neither am I, but would be happy to provide what meagre support I can.

David Bell
Hatherleigh, Devon
-- 
A GNU/Linux user



--
The Mailing List for the Devon & Cornwall LUG
Mail majordomo@xxxxxxxxxxxx with "unsubscribe list" in the
message body to unsubscribe.



---
Lynx friendly