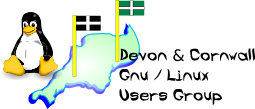 Devon & Cornwall Linux Users' Group
[ Date Index ][ Thread Index ]
[ <= Previous by date / thread ] [ Next by date / thread => ]
Re: [LUG] My Return + Update
---
---
Sadie Brinham wrote:
Til you compile release your own "Stone Linux" distro,maybe:)



A friend in work compiled his own distro called Phuqnose. When anyone asked what he called it the conversation was generally quite comical as you can imagine:
Them:  So what's it called?
Him: Phuqnose.
Them:  Well you should have some idea it's your distro!
Him: Phuqnose!
Them:  Well I only asked!
Him: *banging head on table*  Phuqnose!!!
Them: Suit yourself! *wanders off in a huff*
hehehe
Julian
--
The Mailing List for the Devon & Cornwall LUG
Mail majordomo@xxxxxxxxxxxx with "unsubscribe list" in the
message body to unsubscribe.
---
Lynx friendly