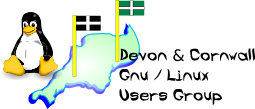 Devon & Cornwall Linux Users' Group
[ Date Index ][ Thread Index ]
[ <= Previous by date / thread ] [ Next by date / thread => ]
Re: [LUG] Linux Training
---
---
On Tue, Sep 21, 2004 at 10:10:46PM +0100, Patrick Kimber wrote:

I think the main reason is the licence on mySQL.  The PostgreSQL licence 
has no restriction for commercial use.




I must ask, why postgresql and not mysql?



Don't top post please.

mySQL has no restriction for commercial use either.

postgresql I am told by friends who know much more about DBMS than I do
has transaction support, and a whole bunch of more "serious" features I
have not bothered to study.

mysql is simpler and faster.

--
The Mailing List for the Devon & Cornwall LUG
Mail majordomo@xxxxxxxxxxxx with "unsubscribe list" in the
message body to unsubscribe.



---
Lynx friendly