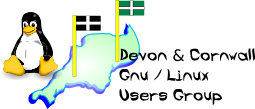 Devon & Cornwall Linux Users' Group
[ Date Index ][ Thread Index ]
[ <= Previous by date / thread ] [ Next by date / thread => ]
Re: [LUG] Linux Training
---
---
On Tuesday 21 September 2004 10:10, Patrick Kimber wrote:

I think the main reason is the licence on mySQL.  The PostgreSQL licence
has no restriction for commercial use.



wow, are you sure you're reading the licences correctly?

mysql merely requires that if your code is NON open source you must purchase 
one licence per server, £340 is peanuts, especially when you're selling to a 
corporate market that EXPECTS to pay licences (as a mark of "pukka" goods if 
nothing else) last I checked sql server with 5 clients was over a grand....
lawyesr
pushing postgresql which is inextricably tied into the BSD licence, even if it 
is bloody free, is the sort of thing that scares the crap out of 
lawyers-as-buying-clients....

my 2p anyway....

--
The Mailing List for the Devon & Cornwall LUG
Mail majordomo@xxxxxxxxxxxx with "unsubscribe list" in the
message body to unsubscribe.



---
Lynx friendly