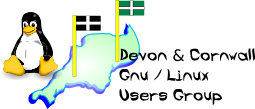 Devon & Cornwall Linux Users' Group
[ Date Index ][ Thread Index ]
[ <= Previous by date / thread ] [ Next by date / thread => ]
[LUG] Re: ftp and stuff
---
---
On Thu, Aug 26, 2004 at 11:26:53PM +0100, Robin Cornelius wrote:

Check this ->

http://www.magwag.plus.com/jim/tips-300t.html



I can telnet into the ethernet modem (aka router) and it has a little
linux system in there, with ash and cat but no editor not even ex (as far
as I can see). df says there are 1152 blocks and 0 available. Jim's
tips says that ssh sets the Minimize-Delay IP_TOS flag and packets were
being routed wrongly (I tried ssh and I get the same hangup as ftp). Jim
suggests a cure, which is to do this (on the PC) 

 iptables --table mangle --append OUTPUT --jump DSCP --set-dscp 0x0

I tried this and got "iptables: No chain/target/match by that name". What
does this mean?

Tony


--
The Mailing List for the Devon & Cornwall LUG
Mail majordomo@xxxxxxxxxxxx with "unsubscribe list" in the
message body to unsubscribe.



---
Lynx friendly