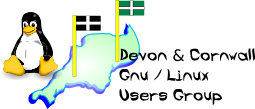 Devon & Cornwall Linux Users' Group
[ Date Index ][ Thread Index ]
[ <= Previous by date / thread ] [ Next by date / thread => ]
[LUG] Re: what started this ftp query
---
---
Robin Cornelius writes:
Check this ->

http://www.magwag.plus.com/jim/tips-300t.html

Its insiteful

It really is. This little box (the DSL 300T) is not useless at all, it is
remarkably clever. I can telnet to 192.168.1.1 and log in as root and
sure enough there are the iptables rules and everything. I haven't fully
solved the problem yet but I'm pretty sure I can now. Let joy be unconfined.
Tony

--
The Mailing List for the Devon & Cornwall LUG
Mail majordomo@xxxxxxxxxxxx with "unsubscribe list" in the
message body to unsubscribe.
---
Lynx friendly