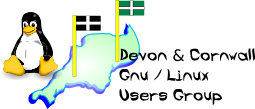 Devon & Cornwall Linux Users' Group
[ Date Index ][ Thread Index ]
[ <= Previous by date / thread ] [ Next by date / thread => ]
Re: [LUG] Business switched
---
---
On Thursday 26 August 2004 20:12, Simon Waters wrote:

I tried teapot the other day - seems okay, but seems aimed more at the
ISP market - something to go with your Squirrel Mail, more than the
typical Office install I thought.


I've heard quite a bit about this 'teapot' but have never been able to find it 
- do you have a url.
the only teapot I've ever been able to find is a spreadsheet

TIA
Jon Lawrence

--
The Mailing List for the Devon & Cornwall LUG
Mail majordomo@xxxxxxxxxxxx with "unsubscribe list" in the
message body to unsubscribe.



---
Lynx friendly