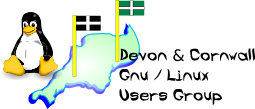 Devon & Cornwall Linux Users' Group
[ Date Index ][ Thread Index ]
[ <= Previous by date / thread ] [ Next by date / thread => ]
Re: [LUG] Wiping the Tablet clean...
---
---
Jonathan Melhuish wrote:
I'd ideally like to dual-boot XP and Debian, although if it's too much hassle then I'm prepared to drop Windows. There are only two complications that spring to mind: the XP CD is one of those nasty "restore CDs" that tend to repartition your drive without asking you, and also that the machine has no removable storage devices attached.
I have another Debian laptop, a Debian desktop and a 2Mb ADSL line at my disposal. All the machines have network access and can share data via a Samba share.

There are Linux tools for resizing partitions (parted) and disk imaging
(g4l). So you could resize the Windows partition, to make some room and
back it up.

Attachment: signature.asc
Description: OpenPGP digital signature
---
Lynx friendly