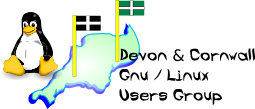 Devon & Cornwall Linux Users' Group
[ Date Index ][ Thread Index ]
[ <= Previous by date / thread ] [ Next by date / thread => ]
[LUG] Re: your mail
---
---
I was -given- an officejet t65 (I think that's what it is) and set it up
with the low-level hpoj driver so that I could use it as a scanner.  As
such it behaves SANEly, but it won't print while hpoj is running.  I have
to stop hpoj and start the ordinary print spooler if I want to print, and
vice-versa if I want to scan.  I made that simpler by writing a small
shell script.  I am running redhat 7.2 (still).

-- 
John Palmer
Preston near Weymouth, Dorset, England
e-mail:  johnp@xxxxxxxxxx (plain text preferred)
website: http://www.palmyra.uklinux.net/


--
The Mailing List for the Devon & Cornwall LUG
Mail majordomo@xxxxxxxxxxxx with "unsubscribe list" in the
message body to unsubscribe.



---
Lynx friendly