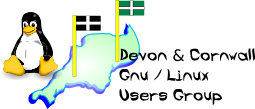 Devon & Cornwall Linux Users' Group
[ Date Index ][ Thread Index ]
[ <= Previous by date / thread ] [ Next by date / thread => ]
Re: [LUG] The Joy of Linux!
---
Subject: Re: [LUG] The Joy of Linux!
From: lee quick <lee.quick@xxxxxxxx>
Date: Wed, 3 Dec 2003 19:29:12 +0000
Authenticated-sender:
Content-disposition: inline
Reply-to: list@xxxxxxxxxxxx
---
On Wednesday 03 December 2003 11:32, Rob Thyssen wrote:

>
> /end smug debian user session
>
> /rob
>

Nice one rob ;) except Fsviewer is not FSV. heh
seems your apt session just locked onto the nearest match see 
http://fsv.sourceforge.net/
for the correct prog!

lee


--
The Mailing List for the Devon & Cornwall LUG
Mail majordomo@xxxxxxxxxxxx with "unsubscribe list" in the
message body to unsubscribe.


---
Lynx friendly