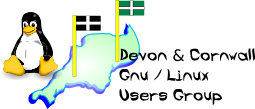 Devon & Cornwall Linux Users' Group
[ Date Index ][ Thread Index ]
[ <= Previous by date / thread ] [ Next by date / thread => ]
Re: [LUG] Paignton meeting
---
---
Meeting Update

23rd (Thurs) October has been pencilled in, from 7 - 9 in the evening, times
can be changed, but 7 is good as it gives me from 6:30 to set things up,

As I am a club member I can sign everyone in on the day

If I can confirm by tuesday / Thursday this week I will put on the site this
week on the meetings page.

Thanks


---
Outgoing mail is certified Virus Free.
Checked by AVG anti-virus system (http://www.grisoft.com).
Version: 6.0.521 / Virus Database: 319 - Release Date: 23/09/03


--
The Mailing List for the Devon & Cornwall LUG
Mail majordomo@xxxxxxxxxxxx with "unsubscribe list" in the
message body to unsubscribe.


---
Lynx friendly