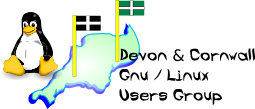 Devon & Cornwall Linux Users' Group
[ Date Index ][ Thread Index ]
[ <= Previous by date / thread ] [ Next by date / thread => ]
Re: [LUG] Double-click in KDE?
---
---
-----BEGIN PGP SIGNED MESSAGE-----
Hash: SHA1

On Saturday 29 Mar 2003 3:50 pm, Jonathan Melhuish wrote:
> On Saturday 29 Mar 2003 1:26 pm, David Johnson wrote:
> > I've just installed Redhat 9 and KDE is set so you have to double-click
> > on icons. I've searched through the KDE Control Centre and can't find
> > the option to switch it to single-click.
> >
> > Anyone know how to do this?

KDE Control Center, just above Home in the KDE3 K menu. Select Peripherals 
then Mouse. Same panel can be reached from the Configuration menu, then KDE 
then peripherals and mouse as above.

> And how about GNOME?  I tried it other day, but you have to double-click on
> everything, which really pissed me off :-(
>

Had a quick look and although you can adjust the time delay, there seems no 
comparable option in Gnome. Perhaps there's a theme that can be applied that 
would have this effect? However, Google found:

http://www.redhat.com/docs/manuals/linux/RHL-7.2-Manual/getting-started-guide/ch-gnome60.html
Choose Double-Click or Single-Click 

You can configure the mouse to activate files and applications with a double- 
or a single-click, whichever you prefer. Click on the icon for the Nautilus 
Start Here screen on the desktop (there is also one on the panel). This opens 
the file manager. Click on Preferences at the top of the screen and then 
select Edit Preferences. The preferences screen opens, showing a list of 
configurable options on the left. Click on Icon and List Views. Now make your 
selection for double or single mouse click in the top section of this window. 
Click on Ok and this change takes place immediately. 

- -- 

Neil Williams
=============
http://www.codehelp.co.uk
http://www.dclug.org.uk

http://www.wewantbroadband.co.uk/

-----BEGIN PGP SIGNATURE-----
Version: GnuPG v1.0.7 (GNU/Linux)

iD8DBQE+heXKiAEJSii8s+MRAlvyAKDR9OeCnDFX3v6bPzR8HOhUFMw9fwCg3EWW
6z7vjFpPNqr9bP5kW6jRzTw=
=ODRA
-----END PGP SIGNATURE-----


--
The Mailing List for the Devon & Cornwall LUG
Mail majordomo@xxxxxxxxxxxx with "unsubscribe list" in the
message body to unsubscribe.


---
Lynx friendly