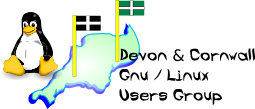 Devon & Cornwall Linux Users' Group
[ Date Index ][ Thread Index ]
[ <= Previous by date / thread ] [ Next by date / thread => ]
Re: [LUG] Please excuse the silliness
---
---
-----BEGIN PGP SIGNED MESSAGE-----
Hash: SHA1

dan prisk (by way of dan prisk ) wrote:
> ::delurk::
>
> After reading about the CPIP protocol (http://www.blug.linux.no/rfc1149/)
>  I've been left with one question hanging in my mind.
>
> Is it possible to train carrier penguins?

I suspect Penguins are highly unsuitable for use as a data link layer,
not least the jitter caused by Killer Whales, not to mention the packet
loss.

> This thought (and the subsequent discussions with a friend) have amused me
>  too much not to share so I'm afraid you all have to have my silliness
>  inflicted upon you :o)

Do we have to wait till the 1st then?
-----BEGIN PGP SIGNATURE-----
Comment: Using GnuPG with Mozilla - http://enigmail.mozdev.org

iD8DBQE+hCwbGFXfHI9FVgYRAubFAJ9iB1jlEgrMNEZx7MPWMaD8XxkjuACbB5hF
ZUblCPcz1frN133OHoCPyBM=
=M928
-----END PGP SIGNATURE-----

--
The Mailing List for the Devon & Cornwall LUG
Mail majordomo@xxxxxxxxxxxx with "unsubscribe list" in the
message body to unsubscribe.


---
Lynx friendly