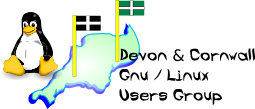 Devon & Cornwall Linux Users' Group
[ Date Index ][ Thread Index ]
[ <= Previous by date / thread ] [ Next by date / thread => ]
[LUG] mobile phone text messages from php pages?
---
---
Hi,
Does anyone know how I would go about getting a php page to send a text message to a list of mobile phone numbers?
Thanks
Roland

--
The Mailing List for the Devon & Cornwall LUG
Mail majordomo@xxxxxxxxxxxx with "unsubscribe list" in the
message body to unsubscribe.
---
Lynx friendly