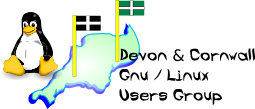 Devon & Cornwall Linux Users' Group
[ Date Index ][ Thread Index ]
[ <= Previous by date / thread ] [ Next by date / thread => ]
Re: [LUG] Meeting 15-12-2002
---
---
Simon Rodda wrote:
OK, so I'm creating 3 CDs with OpenOffice 1.0.1 on it - windows, linux, (gzipped & unzipped), and If I remember I'll add the Mac OS X version....
If anyone specifically wants a disk, let me know, then I'll ensure I bring enough.
Can (was it given out already??) we have directions please?
Cheers,
Simon


Directions and a map are at:
http://www.southwest.lug.org.uk/modules.php?op=modload&name=Meeting&file=index
David.
--
A child of five could understand this! Fetch me a child of five.
--
The Mailing List for the Devon & Cornwall LUG
Mail majordomo@xxxxxxxxxxxx with "unsubscribe list" in the
message body to unsubscribe.
---
Lynx friendly