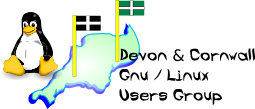 Devon & Cornwall Linux Users' Group
[ Date Index ][ Thread Index ]
[ <= Previous by date / thread ] [ Next by date / thread => ]
Re: [LUG] Meeting 15-12-2002
---
---
On Wed, 9 Oct 2002 18:09:44 +0100
"Neil Maskell" <general@xxxxxxxxxxxxxxxxxxxxxxxx> wrote:





Hey guys.

What time are you going to present the talk thing?

I will be at church on Sunday 'till 1:00 pm  so i should be able to get
there for quater past to half past one.

If that is too late for the talk I will skip church.



Hit Church first- us Easteners will need a pint or two before serious work/play 
begins (and us Catholics can go on Saturday evening!). I suspect Neil Williams' plot 
-like all our (or at least, my) plans- may slip a bit so you shouldn'nt miss much if 
anything of the gems awaiting us.

Terence

--
The Mailing List for the Devon & Cornwall LUG
Mail majordomo@xxxxxxxxxxxx with "unsubscribe list" in the
message body to unsubscribe.


---
Lynx friendly