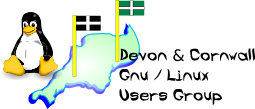 Devon & Cornwall Linux Users' Group
[ Date Index ][ Thread Index ]
[ <= Previous by date / thread ] [ Next by date / thread => ]
Re: [LUG] Meeting 15-12-2002
---
---
Neil Williams wrote:
>WARNING: Unsanitized content follows.
On Wednesday 09 Oct 2002 6:09 pm, Neil Maskell wrote:

Hey guys.

What time are you going to present the talk thing?


How's this for a timetable? If other presenters would prefer a better slot
(late arriving / need to leave early etc.) that's fine - this is just off the
cuff.



Only the start time is sort of fixed, the rest will depend on overruns,
underruns.



Looks good to me...


I'll be there for around 11am.

Me too :-)
Rick, can you still find a hub to bring along?

Thanks,
David.

--
A child of five could understand this! Fetch me a child of five.
--
The Mailing List for the Devon & Cornwall LUG
Mail majordomo@xxxxxxxxxxxx with "unsubscribe list" in the
message body to unsubscribe.
---
Lynx friendly