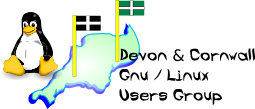 Devon & Cornwall Linux Users' Group
[ Date Index ][ Thread Index ]
[ <= Previous by date / thread ] [ Next by date / thread => ]
[LUG] List of linux-compatible hardware Mp3 players
---
---
I often search for hardware compatibility info on the 'Net and although 
http://lhd.datapower.com is great for lots of things, they only have 3 Mp3 
players in their entire database and no category for them (plus their site 
seems to often been broken!).

So I set out to do better ;-)  My list of linux-compatible hardware Mp3 
players is at http://www.netacclaim.co.uk/linuxmp3players/

If anyone has any experience, negative or positive, of connecting an Mp3 
player of any sort to a linux machine, let me know.  Otherwise, please 
cross-post this to any other relevant mailing lists, link to it, whatever.

Cheers,

Jon

--
The Mailing List for the Devon & Cornwall LUG
Mail majordomo@xxxxxxxxxxxx with "unsubscribe list" in the
message body to unsubscribe.


---
Lynx friendly