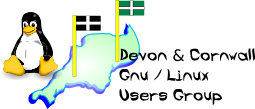 Devon & Cornwall Linux Users' Group
[ Date Index ][ Thread Index ]
[ <= Previous by date / thread ] [ Next by date / thread => ]
Re: [LUG] List of linux-compatible hardware Mp3 players
---
---

On Sunday, December 8, 2002, at 04:05 am, Jonathan Melhuish wrote:
If anyone has any experience, negative or positive, of connecting an Mp3 player of any sort to a linux machine, let me know.

I've seen an Apple iPod (Mac version) working on Linux.
I think the tool is called XTunes or XPod.
Matt

--
The Mailing List for the Devon & Cornwall LUG
Mail majordomo@xxxxxxxxxxxx with "unsubscribe list" in the
message body to unsubscribe.
---
Lynx friendly