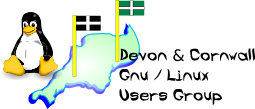 Devon & Cornwall Linux Users' Group
[ Date Index ][ Thread Index ]
[ <= Previous by date / thread ] [ Next by date / thread => ]
Re: [LUG] Englsih Lit (was: big list of cool software?)
---
---
-----BEGIN PGP SIGNED MESSAGE-----
Hash: SHA1

On Friday 19 July 2002 2:53 pm, Matthew Browning wrote:

Now - back on topic (sort of) I notice Slashdot have just got round to
putting up a list of mirrors for Perl 5.8...lucky I'm not busy this
afternoon ;)



*/me watches our mirror servers bandwidth go throug the roof :P*


- -- 

Theo Zourzouvillys
http://zozo.org.uk/

No violence, gentlemen -- no violence, I beg of you!  Consider the furniture!
               -- Sherlock Holmes
-----BEGIN PGP SIGNATURE-----
Version: GnuPG v1.0.7 (GNU/Linux)

iD8DBQE9OBuX448CrwpTn6YRAua7AJ0Vf82mmiLkQmnXg3yJQ9zKQ3s+6gCgix77
b7NxiUnUkCNXJxcckPeNAFQ=
=ThwC
-----END PGP SIGNATURE-----


--
The Mailing List for the Devon & Cornwall LUG
Mail majordomo@xxxxxxxxxxxx with "unsubscribe list" in the
message body to unsubscribe.


---
Lynx friendly