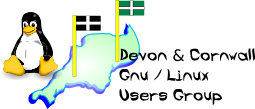 Devon & Cornwall Linux Users' Group
[ Date Index ][ Thread Index ]
[ <= Previous by date / thread ] [ Next by date / thread => ]
Re: [LUG] Business Software Recomendations
---
---
Hiya

At least Newquay is one of the areas that has been Broadband enabled!

Contact ActNowCornwall.co.uk and you may be eligible for a subsidised 
connection.

Let us know how you get on.

Mark


On Wednesday 17 July 2002 10:33, you wrote:

Hi all,

Looks like the Guest House will be going ahed

thanks everyone for your suggestions,


[Snip]
-- 
For information on Newquay and the surrounding area:
http://www.Newquay-Plus.co.uk

--
The Mailing List for the Devon & Cornwall LUG
Mail majordomo@xxxxxxxxxxxx with "unsubscribe list" in the
message body to unsubscribe.


---
Lynx friendly