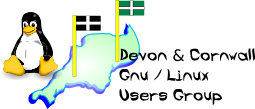 Devon & Cornwall Linux Users' Group
[ Date Index ][ Thread Index ]
[ <= Previous by date / thread ] [ Next by date / thread => ]
Re: [LUG] Win2k server
---
---
On Tuesday 09 July 2002 21:32, you wrote:

I need to install Windows 2000 server for an MCP i am studying for (yeah
i know...)  and i was wandering the best way on ensuring i can boot both
linux and W2K,,, Lilo / NT Boot loader etc etc ???



Install each on a separate hard drive.
With floppy boot disk pushed in, boots a, with it out, boots b.
Now will windows boot from floppy nowadays?

-- 
From one of the Linux desktops of Dr Adrian Midgley 
http://www.defoam.net/             

--
The Mailing List for the Devon & Cornwall LUG
Mail majordomo@xxxxxxxxxxxx with "unsubscribe list" in the
message body to unsubscribe.


---
Lynx friendly