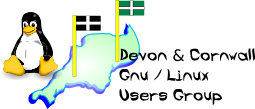 Devon & Cornwall Linux Users' Group
[ Date Index ][ Thread Index ]
[ <= Previous by date / thread ] [ Next date => thread ]
[LUG] ISDN/ADSL pooh!
---
---
Well I may only be 965metre's from the exchange but hell will freeze over before I get broadband! (apparently).
Has anybody on the list had any dealings with multilink PPP?
After all I have 2 phone lines and 2 modems, 2x 56k sounds quite attractive.(and a tad cheaper than home highway)
SlightlynotsowideBand here I come.
Lee Quick.
---
Lynx friendly