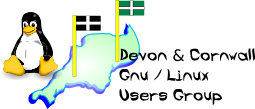 Devon & Cornwall Linux Users' Group
[ Date Index ][ Thread Index ]
[ <= Previous by date / thread ] [ Next by date / thread => ]
Re: [LUG] SuSE 8.0 - Login doesn't start X
---
---
On Monday 29 April 2002 10:39 pm, lee quick wrote:

Keith Abraham wrote:


On Monday 29 April 2002 1:11 pm, Alex Charrett wrote:


The vga= setting in lilo has no bearing on your X configuration, what it
does it gives you a higher resolution console mode, you'll see the
difference in text size whilst the machine is booting but if you running
an XDM variant then it's of little use 99% of the time.

Alex.

On Mon, 29 Apr 2002, Keith Abraham wrote:


I've just read up about VESA framebuffers and LILO.
In my lilo.conf I've got "vga=791" which according to SuSE's
sdb is for a framebuffer with 1204x768 16bit resolution.
As my graphics card has now been recognised and set up
properly should this be changed to "vga=normal"?

Keith




Thanks Simon and Alex.

Just tried "vga normal". You're correct. It merely dropped SuSE's
green screen console back to the normal text console.

Don't think there is anything wrong with XF86 as I get the NVidia
splash and "Gears" runs pretty fast. It all seems very stable.

But logging out of KDE produces some error messages about child
processes bring killed etc.

I think there is something awry in the "init.d" area as the system reports
that it's reached runlevel 5. So we should get the graphical login. I had
a quick look in "init.d" but it seems a minefield just waiting for someone
with my little experience to put a foot wrong.

I can live without the graphic login but my wife can't.

So it's best if I register SuSE 8.0 and post them an installation
support request. I'll let you know the outcome.

Keith



--
The Mailing List for the Devon & Cornwall LUG
Mail majordomo@xxxxxxxxxxxx with "unsubscribe list" in the
message body to unsubscribe.




Just a shot in the dark keith but when you installed did you go for the
full blown 1024x768 graphical install melarky?
I found (at least with Suse 7.3) that installing using the Disable
APIC/safe mode option for reasons unknown behaved much better when
installing with a Nvidia card.

That said 8.0 installed without a glitch on me GF3 ti200.



I would have Lee but for some reason the installer couldn't recognise
my NVidia Vanta card. Yet it's there on the database! So I never got
a choice. 
The installation proceded thereafter using the truely horrible text mode
of yast2. Then I configured XF86 with Sax2 using SuSE's dummy "nv"
driver. Next I downloaded nvida_glx and nvidia_kernel which installed
OK. Then re-configured XF86. No problems. And XFree86.conf looks
OK.
But never once was I able to get the GUI login. 

I've also done a reinstall of xf86 but thats made no difference.

Doing "init 3" is revealing. The log shows xdm shutting down.
I always thought I was using kdm? So perhaps xdm isn't configured
correctly. Under the old yast1 it was easy to switch from xdm to kdm
but where is can you do this in yast2?

Keith     

Keith   



--
The Mailing List for the Devon & Cornwall LUG
Mail majordomo@xxxxxxxxxxxx with "unsubscribe list" in the
message body to unsubscribe.


---
Lynx friendly