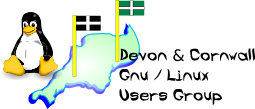 Devon & Cornwall Linux Users' Group
[ Date Index ][ Thread Index ]
[ <= Previous by date / thread ] [ Next by date / thread => ]
Re: [LUG] SuSE 8.0 - Login doesn't start X
---
---


The vga= setting in lilo has no bearing on your X configuration, what it 
does it gives you a higher resolution console mode, you'll see the 
difference in text size whilst the machine is booting but if you running 
an XDM variant then it's of little use 99% of the time.

Alex.

On Mon, 29 Apr 2002, Keith Abraham wrote:


I've just read up about VESA framebuffers and LILO.
In my lilo.conf I've got "vga=791" which according to SuSE's
sdb is for a framebuffer with 1204x768 16bit resolution.
As my graphics card has now been recognised and set up
properly should this be changed to "vga=normal"?

Keith




--
The Mailing List for the Devon & Cornwall LUG
Mail majordomo@xxxxxxxxxxxx with "unsubscribe list" in the
message body to unsubscribe.


---
Lynx friendly