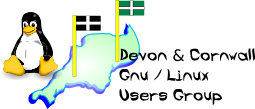 Devon & Cornwall Linux Users' Group
[ Date Index ][ Thread Index ]
[ <= Previous by date / thread ] [ Next by date / thread => ]
Re: [LUG] error message. ....expat.so.1 not a sympbolic link
---
---
On Saturday 27 April 2002 22:25, you wrote:


If everything works okay relax. How did you install Linphone?
(i.e. RPM, strange package sent by a friend, from source).

RPM


http://www.mv.com/ipusers/vanzandt/lib.html

Ta


-- 
From one of the Linux desktops of Dr Adrian Midgley 
http://www.defoam.net/             

--
The Mailing List for the Devon & Cornwall LUG
Mail majordomo@xxxxxxxxxxxx with "unsubscribe list" in the
message body to unsubscribe.


---
Lynx friendly