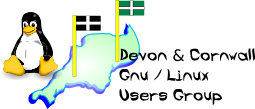 Devon & Cornwall Linux Users' Group
[ Date Index ][ Thread Index ]
[ <= Previous by date / thread ] [ Next by date / thread => ]
Re: [LUG] New E-Mail Address
---
---
Hmm.. and what precisely would they do, remembering phone
phreaking and hacking are illegal in this country ?



The flyers are just there to promote the meetings, at the meetings we aim to
cover security, phones, media encoding, Linux, coding, open-source,
internet, cryptography, and privacy. Our flyers state that we do not want
any illegal activity at our meetings.

-- 
Matt Lee
comedynetuk.com



--
The Mailing List for the Devon & Cornwall LUG
Mail majordomo@xxxxxxxxxxxx with "unsubscribe list" in the
message body to unsubscribe.


---
Lynx friendly