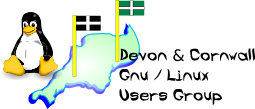 Devon & Cornwall Linux Users' Group
[ Date Index ][ Thread Index ]
[ <= Previous by date / thread ] [ Next by date / thread => ]
Re: [LUG] EMail Clients...
---
---

> > Just as a point of interest, what email and web clients do the members of
> > te LUG use ? I use Balsa and Galleon, works ok, but balsa craps out every
> > so often...
>
Currently KMail on SuSE V7.3 which on this distro is very stable (v1.3.1 
using KDE 2.2.1).  In the past I always used Pegasus Mail on Win3x, 95, 98 
until I recrossed the Styx 3 years ago: although I still use it occasionaly 
on an ancient 386 laptop which only has room for Win 3.11.  I have also 
persuaded several relations and friends who use M$ to use Pegasus.  A great 
pity that Pegasus isn't ported to Linux.  However it it were it would be 
USA'd which would spoil it.  Same as has happened to Opera over the past few 
years.

David Bell
(At present in a Somerset limbo awaiting a house-move to Hatherleigh next 
week)

--
The Mailing List for the Devon & Cornwall LUG
Mail majordomo@xxxxxxxxxxxx with "unsubscribe list" in the
message body to unsubscribe.


---
Lynx friendly