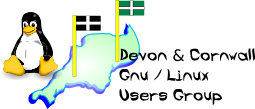 Devon & Cornwall Linux Users' Group
[ Date Index ][ Thread Index ]
[ <= Previous by date / thread ] [ Next by date / thread => ]
Re: [LUG] PCMCIA network card
---
---
Paul Weaver wrote:
> 
> I was looking at a recomendation for a linux compatable, cheap, 10/100 mbit
> network card.

I have a Dynalink 10/100 card in my Laptop - works with the
generic ethernet driver in Linux no problems - about 30 quid.

Found Windows 98 had real trouble with this and the Wireless LAN
card at the same time, but this was fixed by firmware and
software upgrades for the Wireless LAN card and Windows 98.

Linux 2.2 just worked with both cards. Another case of not
getting what you pay for - free drivers worked, commercial ones
were crap, I think it is because the free drivers have more
example code to work from.

> Any suggestions?

I'd try PCMCIA-CS 3.1.28 before buying a new card. If your on a
2.4 kernel disable all the kernel PCMCIA stuff and do it the
"D.A. Hinds" way (See README-2.4 in the PCMCIA spource package
from Source Forge). The kernel config for 2.4 was not pleasant,
too many flags scattered around all over the place for PCMCIA.

	Simon,
--
The Mailing List for the Devon & Cornwall LUG
Mail majordomo@xxxxxxxxxxxx with "unsubscribe list" in the
message body to unsubscribe.


---
Lynx friendly