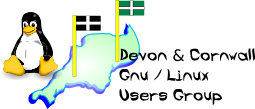 Devon & Cornwall Linux Users' Group
---
[
Date Prev
][
Date Next
][
Thread Prev
][
Thread Next
][
Date Index
][
Thread Index
]
[LUG] Kernel Changes
---
---

Decided it was time to lose that nasty security bug in the kernel.

After a quick refresher in Kernel changes - I've got a practically
perfect 2.2.17.

kppp works fine.

However when I 'ifup ppp0' ppp-watch is hanging.

I noticed an error "modprobe: can't locate module char-major-108"
The error is produced on both ifup and kppp.

Any ideas where to go from here, as I was still configuring ppp0 the
details of this are a still a bit foreign.
--
lug-list - The Mailing List for the Devon & Cornwall LUG
Mail majordomo at lists.termisoc.org with "unsubscribe lug-list" in the
message body to unsubscribe.


---
Lynx friendly