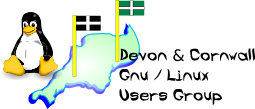 Devon & Cornwall Linux Users' Group
---
[
Date Prev
][
Date Next
][
Thread Prev
][
Thread Next
][
Date Index
][
Thread Index
]
Re: [LUG] Invitation to the next: Devon and Cornwall Linux UserGroup Meeting
---
---


On Fri, 16 Jun 2000, Nick Kew wrote:

> Are you sure that site's not firewalled from the outside world?

Yep, there is no firewall in the way.  I've just pulled the site up on my
home machine fine.  The Bristol swan site thing can be a sticking point
but afaik its been fine recenty.

I'll mail you the map if you want.

-=-=-Alex Charrett-=-=-
		SMS: chas at termisoc.org subject:SMS
Mail:   chas at termisoc.org		Web: http://www.termisoc.org/~chas/

--
lug-list - The Mailing List for the Devon & Cornwall LUG
Mail majordomo at lists.termisoc.org with "unsubscribe lug-list" in the
message body to unsubscribe.


---
Lynx friendly