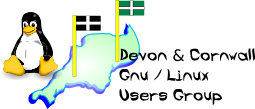 Devon & Cornwall Linux Users' Group
---
[
Date Prev
][
Date Next
][
Thread Prev
][
Thread Next
][
Date Index
][
Thread Index
]
Re: [LUG] cool linux software - dia
---
---

At 01:52 24/03/2000, you wrote:

>I've just discovered a dead cool bit of X software.  Its called dia (find
>it on fm) and its a technical diagram drawing package, very much along the
>lines of Visio.
Nice one, I'll have to give that a go. I've been looking for some software 
to do flowcharts, and that sounds like it could fit the bill.

Meanwhile I'm having other troubles. On my main box I run SuSE63 under 
VMware 2.0 on Win2k. No flames plz ;).
I just installed XF86 4.0, and now I just can't get X to work. SaX2 doesn't 
even start up, saying it can't find the display.
I was expecting to have troubles, but I thought I'd give it a go anyway. 
Anyone else tried this combination?
It's not too much hassle: it's only a for fun installation. But it's just a 
pain having to delve in the case to swap IDE channels so I can boot Linux 
native, to get SaX2 working that way.
Besides, I'm going for a Windoze uptime record: 6 days and counting. This 
is a personal record.

Cheers then.

PS You've got to check out the BOFH's adventure this week. It's a cracker: 
http://www.theregister.co.uk/000323-000010.html.

--
Stavros <st4vs at box.co.uk>
ICQ: 6105423

--
lug-list - The Mailing List for the Devon & Cornwall LUG
Mail majordomo at lists.termisoc.org with "unsubscribe lug-list" in the
message body to unsubscribe.


---
Lynx friendly