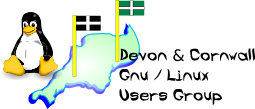 Devon & Cornwall Linux Users' Group
---
[
Date Prev
][
Date Next
][
Thread Prev
][
Thread Next
][
Date Index
][
Thread Index
]
[LUG] New stuff on the website
---
---


As you'll notice if you check Chas & myself have been busy working on the
site to make it even more useful.

Recent aditions are 
-UK linux links and resources
-System Administration section
-more development stuff

I am also experimenting with a linux news feed which will update a page
every hour or so.

a prototype can be found at

http://www.termisoc.org/~betty/projects/headlines.html

rgds,

A.

-- 
<!-- betty  at  area51 --><A HREF = "http://www.termisoc.org/~betty">
LAUNCELOT:  We were in the nick of time. You were in great peril.
GALAHAD:    I don't think I was.
LAUNCELOT:  Yes, you were. You were in terrible peril.
GALAHAD:    Look, let me go back in there and face the peril.
LAUNCELOT:  No, it's too perilous.

--
lug-list - The Mailing List for the Devon & Cornwall LUG
Mail majordomo at lists.termisoc.org with "unsubscribe lug-list" in the
message body to unsubscribe.


---
Lynx friendly