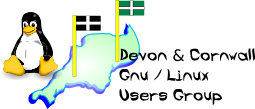 Devon & Cornwall Linux Users' Group
---
[
Date Prev
][
Date Next
][
Thread Prev
][
Thread Next
][
Date Index
][
Thread Index
]
[LUG] User group promotion
---
---
It's good to see a user group for the south west. As a new member of the group I would like to wish everyone best of luck with the group and hope we can expand.
On the subject of expansion. I would like to put a flyer in Paignton library let other users know about the group, I have a draft on paper, basically it just has the following
Internet mailing list for users of the Linux operating system in the Devon and Cornwall area.
If it is ok with the organisers/other members of the group I would like to submit it for display in the library, It's in colour and basic but gets the message across.
I would be grateful if you would please let me know if this is ok, The flyer is still subject to examination by the library staff.
In the meantime I use Red Hat 6.1 so and will try to help other users in anyway I can. I am not an expert though.
Thank you for your time. I look forward to hearing from other local linux users.