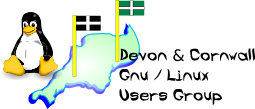 Devon & Cornwall Linux Users' Group
---
[
Date Prev
][
Date Next
][
Thread Prev
][
Thread Next
][
Date Index
][
Thread Index
]
Re: [LUG] Red Hat Updates
---
---

On Tue, 20 Mar 2001, Alex Charrett wrote:
> After all that, its not that difficult to knock up a bit of perl that will
> auto update your red hat system for you.  I already have one that
> periodically logs on to mirror.ac.uk and checks for new rpms.

apt-get into it!

i may be sounding defeatist here or something, but i think money and linux
doesn't mix too well.

What makes it worse is how they want all your bloody details like
addresses etc. I like to be anonymous.

RH's decision will result in more debian users imho. :)

Good luck to RH, mind. i'm just not all optimistic in this current market
climate. :/

-Kai

--
lug-list - The Mailing List for the Devon & Cornwall LUG
Mail majordomo at lists.termisoc.org with "unsubscribe lug-list" in the
message body to unsubscribe.


---
Lynx friendly