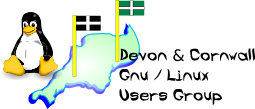 Devon & Cornwall Linux Users' Group
---
[
Date Prev
][
Date Next
][
Thread Prev
][
Thread Next
][
Date Index
][
Thread Index
]
Re: [LUG] Red Hat Updates
---
---



>> After all that, its not that difficult to knock up a bit of perl that will
>> auto update your red hat system for you.  I already have one that
>> periodically logs on to mirror.ac.uk and checks for new rpms.

> yup. Not hard at all, especially when you can use helixgnome and the like
> to manage all your apps for you.

> ..except some of us use suse and update with tar.gz just to be awkward

And some of us build everything from scratch... :-)

Cheers,
Matthew


--
lug-list - The Mailing List for the Devon & Cornwall LUG
Mail majordomo at lists.termisoc.org with "unsubscribe lug-list" in the
message body to unsubscribe.


---
Lynx friendly